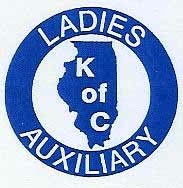 Welcome to the  Ladies Auxiliary of the Holy Rosary Council of the Knights of Columbus.  As a spouse of a knight, you are automatically a member of the Ladies' Auxiliary.
The main function of the Ladies' Auxiliary is to support the men and the council. They do this primarily by co-chairing events, assisting at events and providing monetary help. They also generally do help with setting up and beautifying the hall.
Widows of deceased Knights maintain their membership in the Auxiliary.
We have  no dues.